Fall is glorious in Steamboat. The leaves are still peaking in clusters on the alpine aspens, the days are sunny and mild, and the nights have a crisp mountain air reminding us winter is not far off. I love this time of year as fall remains for 7 more weeks before the mountain opens. There are plenty of fun outdoor (and indoor) activities to explore before the snow flies. Read below for 10 fall favorites.
1. Take a Fall Hike
Many trails remain open through the fall leading you on a winding path through aspen groves and summiting vista views. Emerald Mountain, Mad Creek, Fish Creek Falls and Spring Creek are among my favorite. Bonus, they are all within a few miles of downtown.

2. Bike the Yampa River Core Trail
The trail is open year-round and provides 7 miles of maintained paved pathway along the Yampa River through city limits. Rent a bike and explore Steamboat by bike.

3. Horseback Ride
See the foliage by horseback as you wind along the trail through beautiful forests and and fields. A few outfitters in North Routt by Steamboat Lake operate business year-round. Give them a call and get on a tour.

4. Fish a high alpine lake
Fish in the Flat Tops Wilderness Area or the Zirkel Wilderness Area at a high alpine lake. The water is clear, turquoise and clean. The hike to the lakes are breathtaking. Pack a lunch and make a day trip out of the adventure.
5. Tour the Tread of Pioneers Museum
Located one block north of downtown Steamboat Springs on 8th and Oak is the quaint Victorian House, home of the Tread of Pioneers Museum. Discover the history of Steamboat Springs with the Ute Indians, the first pioneers, the legendary skiiers, old ranches and the wild west.
6. Brewery Tour
Steamboat is home to 3 local breweries. Mahogany Ridge (downtown), Mountain Tap Brewery (downtown on the river) and Storm Peak Brewery (2 miles west of downtown on bike path). Mouth watering, cold brews will please beer fans from far and wide.
7. Old Town and Strawberry Park Hot Springs
Relax in the natural hot springs while you soak up the healing waters. Surrounded by beauty, the Strawberry Park Hot Springs is nestled in the mountains about 20 minutes north of town off from 3rd street. Old Town Hot Springs is conveniently located downtown offering natural springs and hot pools. Fun for the whole family. *No kids after dark at Strawberry Park Hot Springs.
8. Relax at the Local Coffee Shops
There are a few quaint and local coffee shops located directly downtown (and throughout town). Off the Beaten Path on 9th street is my favorite to enjoy a delicious cup of joe while meandering through the bookstore. They are also known for unique gifts and treasures. Mountain Brew is another local favorite for good coffee, pastries, and mountain culture.
9. Shop Downtown
Lincoln Avenue is home to many shops, art galleries and restaurants. Stroll the lively streets and check out the summer deals.

10. Take a Fall Drive
Head up Buffalo Pass for beautiful views of the Yampa Valley where aspen groves of golden yellows will await you. Or, drive to Steamboat Lake along the Elk River. Catch a bite to eat at the quaint Hahns Peak Cafe and be sure to stop in the Clark Store to get a sense of the olden days.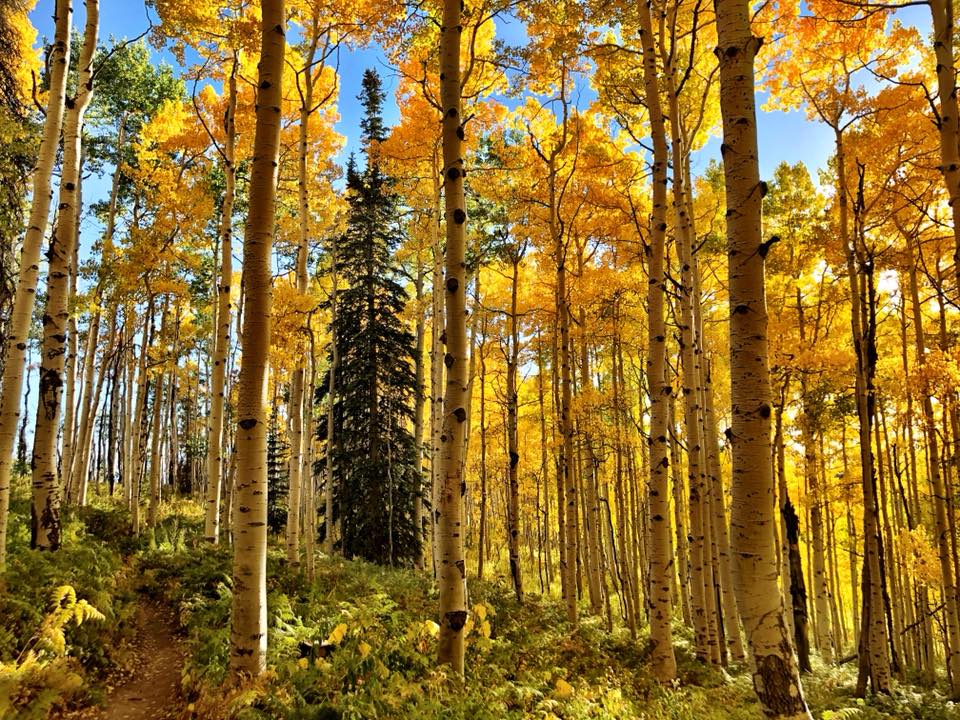 SPOT MIGRATING SANDHILL CRANES
Visit the historic heart of Steamboat and find something special. From clothing boutiques to kitchen goods and western ware, there is something for everyone.
DISCOVER OUR ART GALLERIES
Discover a new artist at downtown art galleries – Downtown Steamboat boasts more than 10 art galleries. From traditional to modern, you're sure to find something new and inspiring up here.
Backpack in the Zirkel Wilderness Area. High country backpacking in the fall isn't for the faint of heart, but when you have the right gear this wilderness area will take your breath away
Grab a drink and a bite at one of the many local coffee shops and bakeries downtown that are as full of character as they are caffeine
Learn about the Olympic heritage, ranching roots and western authenticity of Steamboat Springs at the Tread of Pioneers Museum, where local lore comes to life with rotating exhibits and walking tours of iconic landmarks