One of the oldest winter carnivals in the country is taking place in Steamboat Springs this weekend. From February 6th – February 10th 2019, the town is gearing up for the 106th Winter Carnival. A tradition that residents and visitors look forward to every year.
The Winter Carnival was started by the Steamboat Springs Winter Sports Club as a way to help residents cope with cabin fever during the height of the Colorado winter season. The event continues to this day as a way to celebrate winter. It gives good reason for neighbors to gather and an opportunity to experience life in Steamboat Springs Colorado with a piece of Ski Town USA® history and tradition.
Saturday and Sunday highlight the event with the Winter Carnival Street Events and the Night Show Extravaganza. The Street Events feature local kids being pulled on skis behind horses right down Mainstreet in downtown Steamboat. A crowd favorite, the 'Donkey Jump' sends kids soaring off a jump, with the record jump around 40 feet.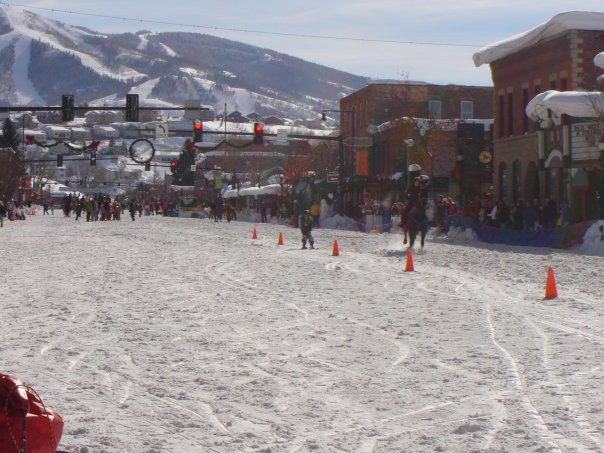 Photo: Winter Carnival Street Events pulling Kids by horse to the finish line
There are activities for the little tykes too, from age 0 – 5 they can participate in the 'Dad Dash' where Dad pulls the kid in a sled to the finish line. Or, the 'Dog Dash' where the family dog may take its fame pulling the kiddo to the finish line. Regardless of age, the Winter Carnival Street Events are definitely worth checking out. Come downtown to Mainstreet from 9 a.m. to Noon on Saturday, or 9 a.m. to 11:30 a.m. Sunday to see the festivities and cheer on those kids (horses and dogs too!). Stick around on Sunday for the parade which highlights the nation's only marching band on skis.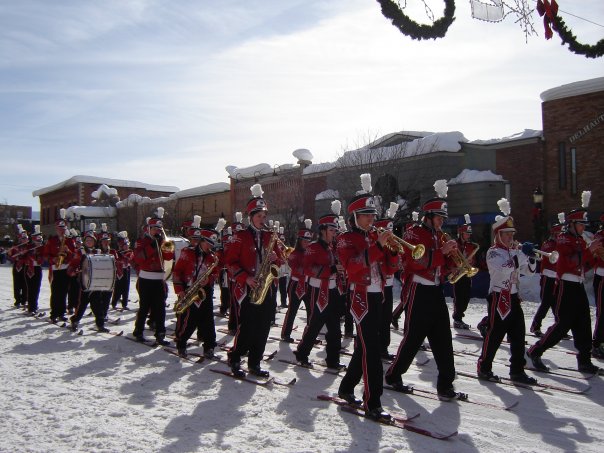 Photo: Winter Carnival Parade featuring the Steamboat Springs High School Marching (Ski) Band!
The Night Extravaganza takes place on Saturday night where hundreds of people gather outside Olympian Hall at Howelsen Hill to experience fireworks and the famous, Lighted Man - where roman candles are shooting out of his backpack, which makes for an amazing opening act for the fireworks show to close out the night. The Steamboat Springs Winter Sports Club athletes will also be showcasing their ski and snowboard tricks, jumps and flights.
Be sure to check out the full schedule of events here. I promise you, this is a weekend to put on your calendar. Bring the whole family!