As we welcome the official start of fall in Steamboat, the sky is blue, the sun is out and it is a perfectly warm 60 degree day. The leaves are just starting to turn with shades of yellow and orange mixed among the green trees. People are happily out riding their bikes, hiking the trails, swimming in the hot springs and enjoying the beautiful weather. Most fall days offer the chance to continue to enjoy the great outdoors to explore. Below are my favorite 5 fall activities to enjoy this fall in Steamboat.
Hike to Fish Creek Falls
Take a ¼ mile hike to see a 180 foot waterfall. The leaves are changing with a beautiful waterfall in the backdrop. The trail extends for more miles providing a chance to take a longer hike for those who wish.
Soak in Strawberry Park or Old Town Hot Springs
Strawberry Park is 7 miles from downtown Steamboat and is a beautiful natural hot springs tucked into the mountains and forests. A beautiful ambiance awaits. Hours are typically 10 am to 10pm and open a bit later on weekends. No kids after dark. Old Town Hot Springs is located in the heart of downtown offering a natural hot springs called the heart springs as well as other pools to soak in.
Cruiser Bike Ride the Yampa River Core Trail
Rent a bike at one of the many bike shops in Steamboat and take a cruiser ride on the 7-mile flat, paved trail that follows the Yampa River through downtown and around Steamboat Springs. This is a great activity for all ages and bike abilities, as the trail is mostly flat and nicely paved.
Mountain Bike Emerald Mountain
Emerald Mountain is a trail network of biking and hiking trails on the favorite 'local' mountain situated off downtown Steamboat Springs. The trails are mostly intermediate, however the beginners would also be fine to check it out and walk where needed. The trails go on for miles upon miles offering beautiful town and mountain views of Steamboat along with a fun downhill called NPR.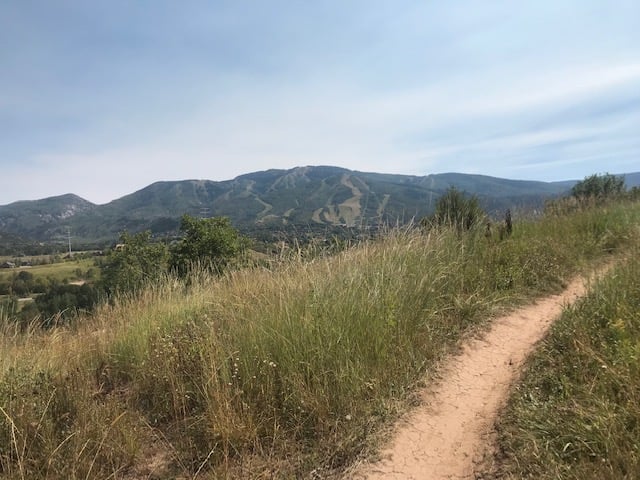 Photo: View from Emerald Mountain trails
Enjoy the Ski Area Trails and Activities
On weekends through mid October enjoy miniature golf, the mountain roller coaster, climbing wall, jungle gym, and a variety of other kid activities at the base of the Steamboat Ski Area. Take a hike or mountain bike ride on the abundance of trails. Enjoy a meal after at one of the restaurants at the base area.
As you can see, fall in Steamboat does not fall short of activities. Keep an eye out in a few weeks for our next fall blog with some indoor activities. Book your trip to the 'Boat and enjoy all that fall has to offer!