Sure you booked a ski trip for Spring Break to ski, but have you thought about the apres and other fun activities going on during your visit? Below are the top 5 things to do while you are visiting Steamboat Springs during spring break.
1. Be sure to soak in the hot springs after skiing. There is nothing better than winding down the day with a relaxing soak in the all natural hot springs. Take a dip and kick up your legs at the Old Town Hot Springs, conveniently located downtown before 3rd street, also on the free City bus loop. Hours are early morning until 10 p.m. (9 p.m. on Sundays). This is a great spot the whole family can enjoy. Or, take a scenic 7 mile drive to Strawberry Park Hot Springs (located north off of 7th street to county road 36, dead ends at the hot springs). The setting is unbeatable - nestled in the forest next to the river. No kids allowed after dark, but family friendly during daylight hours. $15 cash only - clothing optional after dark.
2. Ride the 'Outlaw' roller coaster, the longest roller coaster in North America. Located on the lower mountain of the Steamboat Ski Area. This is a fun thrill both kids and adults alike will enjoy. Tickets available at the ticket shack by Christie Peak Express lift. Open until evening hours.
3. Take a short hike to see a 280 foot waterfall called Fish Creek Falls. Drive downtown and make a right on 3rd street. Take your first right onto Fish Creek Falls Road and drive 4 miles where you will dead end at the parking lot. Bring $5 per vehicle or a National Parks pass. Walk 1/4 mile on a dirt/snow path to the bottom of the water fall where you will want to have a camera ready to snap a photo for your next holiday card. Trouble walking up/down hill, take the 1/4 paved flat path that gives you a wide-angle distant view of the falls. Both magical and delightful for the whole family; even grandma and grandpa can enjoy.
4. Apres... because there is nothing like good food and a cold drink or hot chocolate in hand after a great day on the slopes. Plenty of apres ski spots at the base of the mountain. Slopeside Bar and Grill, as well as the area surrounding it have live music almost every day of the weekend and sometimes throughout the week. Enjoy tacos at the new taco restaurant next to Slopeside, or indulge in homemade french fries, nachos and sangria at the Paramount. Near the gondola is Bear River Bar and Grill, which has plenty of tables to seat large groups. Kick your feet up and cheers to a great day!
5. Come back to the mountain for night skiing and Friday night lights. Night skiing at the Steamboat Ski Area happens Thursday through Monday nights. Friday night lights hosts a fireworks display over the mountain where youc an view from the top of the lift or down at the base. Fun for singles, couples, families or the spring break crew.
For more information on fun happenings in Steamboat Springs, visit www.steamboatsprings.net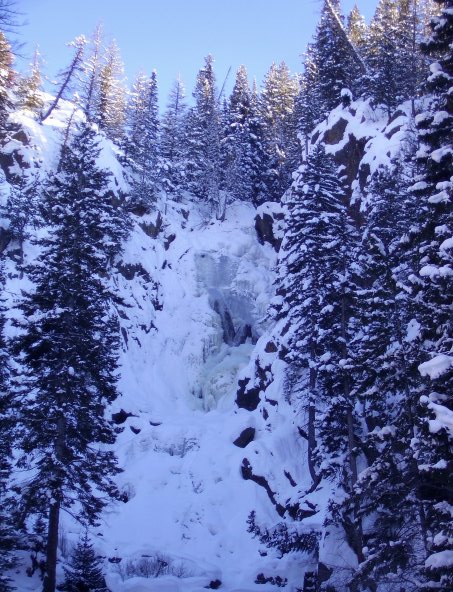 Photo: Fish Creek Falls