Have you been to the Yampa River Botanic Park in Steamboat Springs? If not, put it on your list to explore on your next summer visit to Steamboat. The 6-acre piece of land showcase beautiful gardens, native plants only to Northwest Colorado (endemic) and are labeled with the plant/flower common and scientific names.
The Park is free and open to the public from dawn until dusk, May 1st through October 31st. Having the free entry is encouraging people to visit often, as well as to feel ownership in the park. Donations are also welcome and accepted.
Walk your way through the Park, smelling fresh flowers on a lovely gravel path that has you wondering with exploration. Have a seat at one of the quiet benches and enjoy the surrounding pond and take in the scenes of nature. Pack a picnic lunch to share with a loved one or child and enjoy the shade of the picnic tables. Visit on a summer Thursday at 12:15 p.m. to hear a free concert, "Music on the Green" on the botanic park lawn. Since 1999 the Park has hosted "Music on the Green", which is supported by local sponsors and is a partnership with Strings Music Festival. These events are free lunchtime classical and contemporary music concerts in a very informal atmosphere.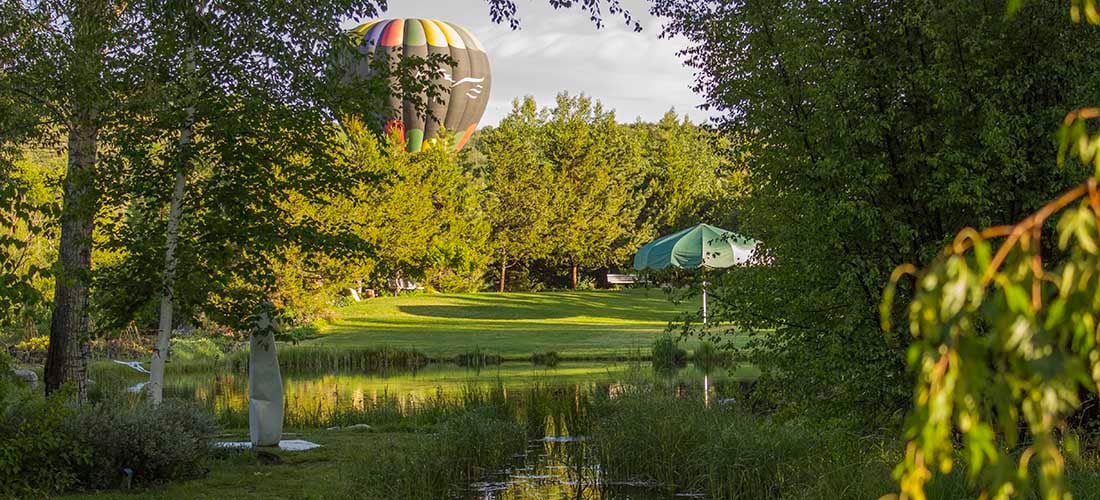 History of the Yampa River Botanic Park sited from their website:
"Beginning in 1995 the Yampa River Botanic Park sprang from a flat horse pasture to a six acre gem of ponds, berms, and over 50 gardens. It is one of the jewels of Northwest Colorado and one of a handful of botanic gardens in the State. The Park is on land donated to the City of Steamboat Springs. The facility is directed by a board of interested citizens who oversee the Park's operations and raise funds through memberships, donations, sponsorships and grants. The Park receives no tax dollars."
The Park is also a popular venue for weddings and public events. Might I add the beauty of the Park intrigued me so much I had my wedding there just a few years ago. It was the perfect scenery for a Steamboat wedding.
Schools also conduct classes at the Park, summer camps regularly visit, The Green is used for live theater, opera, yoga, school classes and many other activities. There is also a corner of the Park that is dedicated to the Children's' Garden with gardens, bird nests, a play-house and an amphitheater. Children's attention can be had all through the park as there are stepping-stones over streams, interesting trails, and sculptures.
Come take a break from the business and stress of life by reveling nature. I promise you will leave relaxed, rejuvenated and a little more educated on the botany in Northwest Colorado.