If you find yourself in Steamboat Springs the first Friday of the month, definitely put First Friday Artwalk on your list of activities for the evening. It is a fun and FREE event in downtown Steamboat Springs that takes place year-round. The cold temperatures do not stop galleries from opening their doors with festive music, refreshments and a lively display of artwork from local artist.
The self-guided tours are of local art galleries, museums and alternative venues throughout downtown Steamboat Springs every first Friday of the month from 5:00 to 8:00 p.m. These businesses remain open for this favorite event of locals and visitors alike. Many locals and visitors have noted this is one of their favorite activities to enjoy on a monthly basis. The businesses offer changing exhibits, so there is something new to see each month. Refreshments may even include complimentary wine, beer and small appetizers. It is a lovely way to indulge in all the flavors of arts while seeing the talent of these local Northwest Colorado artists.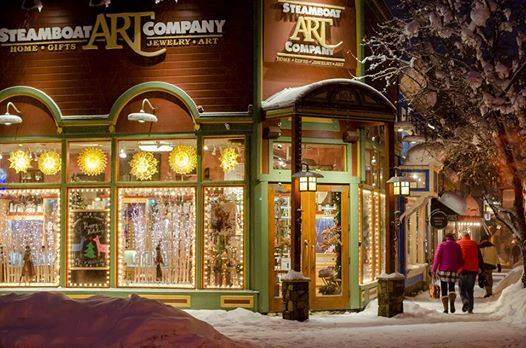 First Friday Artwalk is always free to the public. Recommended for adults, however well-behaved children may also attend.
2019 Dates:
-January 4th
-February 1st
-March 1st
-April 5th
-May 3rd
-June 7th
-July 5th
-August 2nd
-September 6th
-October 4th
-November 1st
-December 6th
For more information on First Friday Artwalk and other activities in downtown Steamboat Springs, visit www.mainstreetsteamboat.com