What happens when 100 ProRodeo cowboys from the National Western Stock Show in Denver come to Steamboat to compete in a ski slalom and downhill ski jump?! Well, we are finding out today as Steamboat gears up for the 45th Cowboy Downhill. It is a rootin, tootin, hollerin, good time watching these cowboys try to compete on skis. I've seen this event a handful of times and it never gets old. The entertainment is hilarious and these cowboys put in their best effort at ski slalom and ski jumping with roping at the end of the course. Some of the cowboys have never been on skis before! With it being the Martin Luther King Day holiday, my young children are off of school and they think this is pretty fun event too. It is a great spectator experience for all ages!
A little bit of history to the event; Billy Kidd, Director of Skiing, and Larry Mahan, six-time All-Around World Champion cowboy made the decision to invite some of the ProRodeo cowboys up to Steamboat for some good, old fashion fun on the slopes. Forty years later, it has become a signature Steamboat event, as spectators look forward to watching over 100 professional rodeo cowboys testing their skills on skis with some roping at the end.
See below for the Cowboy Downhill lineup. Typically, the lineup is similar year-over-year, so if you miss it this year, be sure to add it to your calendar for next year.
MONDAY, JANUARY 21, 2019
-11:00 am: Festivities kick off in Gondola Square with an afternoon of western celebration featuring a 4H animal petting zoo, appearances by the Denver Broncos cheerleaders, a learn to rope clinic, and more.

-1:00 pm: 45th Annual Bud Light Cowboy Downhill - Timed Event Slalom followed by the Stampede event

-Immediately following the Stampede: Free Bud Light Concert featuring Sam Bush. Located in Gondola Square.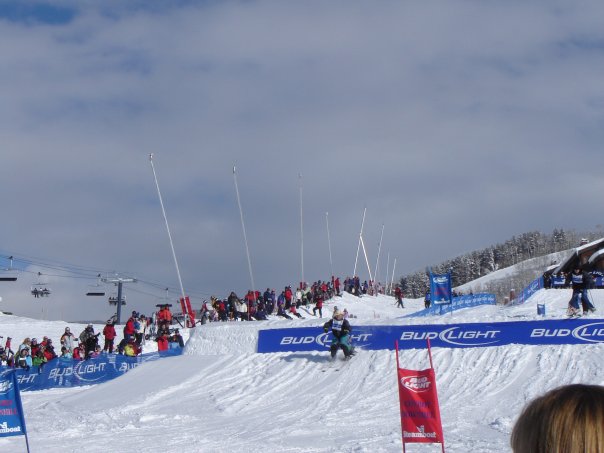 Put the Cowboy Downhill on your list to check out next year. I guarantee you will find it one of the most unique events in the West!