I am willing to bet that Halloween is my kid's favorite holiday. The anticipation of running door to door with neighbor friends betting on who is going to give out the best candy or the thrill of the scary neighbor who lives down the spooky driveway dressed in a witch costume and handing out a partially rotten apple is so exciting. For my oldest, his favorite is the awesome neighbor who ditched the candy to give out dollar bills instead. Memories of going home at the end of the night and counting how much candy and then trading with your siblings or friends is priceless. I mean, how could a kid not love Halloween when in candy heaven?!
Fast forward 25 years to a parent, and I admit Halloween was definitely NOT my favorite holiday. I got anxious just thinking about it.... the thoughts of trying to keep my kids in check as they bolt out running into the streets while they try to escape me. I worry about the strangers and how crowded it can get. Then not to mention the sugar...ALL the dang sugar in ALL the dang candy making them crazy!
Well, I was the Halloween Grinch until I experienced Halloween in Steamboat.
If you are visiting in Steamboat for Halloween, get ready for the most fun community celebration
!
The Colorado Department of Transportation shuts down highway 40, closing Main Street to traffic
.
It becomes a
pedestrian-friendly
street for kids, family members, and adults of all ages
. You can wear your costumes trick-or-treating from business to business.
Various performances from community groups like the African Dancers and Drummers, a live 'Thriller' performance from the local dance studio, a fiery dragon that huffs real fire from the mouth, fire spinners, and haunted houses
are spread
throughout the historic theater
. A pizza restaurant even hands out pizza instead of candy.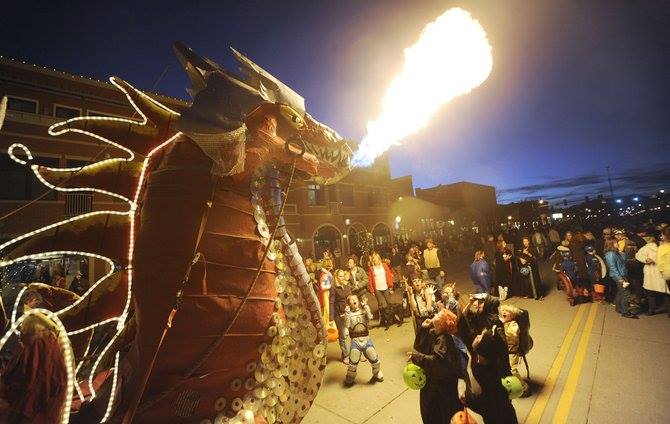 The Downtown Halloween Stroll is the official name of this festive event. Going on for 30 years, the event is always held on Halloween day from 5 - 7 p.m. Main Street is shut down and traffic is detoured. Most of Steamboat is in costume having the biggest party of the year. Celebrating Halloween downtown is just one of the many reasons that makes this community so special. This celebration incorporates families and people of all ages.
If you are not a costume person, don't worry, they are not required! Grab a table and cocktail at one of the many restaurants downtown and enjoy some good people watching.
If not this year, put it on your lists to come back to Steamboat for Halloween. The weather may even provide for some sun and snow; hikes and bikes, or potentially cross country skiing on Rabbit Ears pass. It is a great time to visit Steamboat! I look forward to hearing if you think Halloween in Steamboat is one of the best Halloween's you've ever experienced! Leave a comment below and let us know your favorite Halloween tradition.