Have you tried the new two-wheel winter fun?! Fat Biking, similar as regular biking, but with wider tires and more equipped for snow, is a somewhat new activity that has grown in popularity over the past few years.
An official definition for fat biking is the act of pedaling a bike with super-fat tires over a packed trail of snow. A fat bike's signature tires, which are typically over 4 inches wide, provide a loft and float that allows the bike to glide over groomed snow trails. Fat bikes are beefy in size and stable in their construction. If you can ride a bike on the pavement, you can ride a bike on the snow.
Many Nordic Centers and resorts across the country are picking up on this new sport and starting to include fat bikes to their line of rental fleets. Nordic Centers have groomed trails for fat bikes, and mountain resorts may even have designated areas to fat bike around the resort.
In Steamboat Springs there are a variety of options to test out fat biking. Groomed trails at the Nordic Center offer miles of groomed, fairly flat trails for the ole' fat tires. Lake Catamount Nordic Center rests about 10 minutes south of Steamboat in a beautiful area known as Pleasant Valley. It is quite pleasant and peaceful living up to the name too. Located at 29554 County Road 18, Steamboat Springs, CO. Give them a call at 970.871.6667.
Rent a fat bike at Ski Haus, Orange Peel or Wheels Bike Shop to test out some of the Emerald Mountain trails. There is an entire trail system at Howelsen Hill, which is on the front side of Emerald Mountain. A trail ticket is required. Call Howelsen at 970.879.8499. They are located just off of downtown Steamboat Springs providing lovely views of the town, Steamboat Ski Resort and the valley.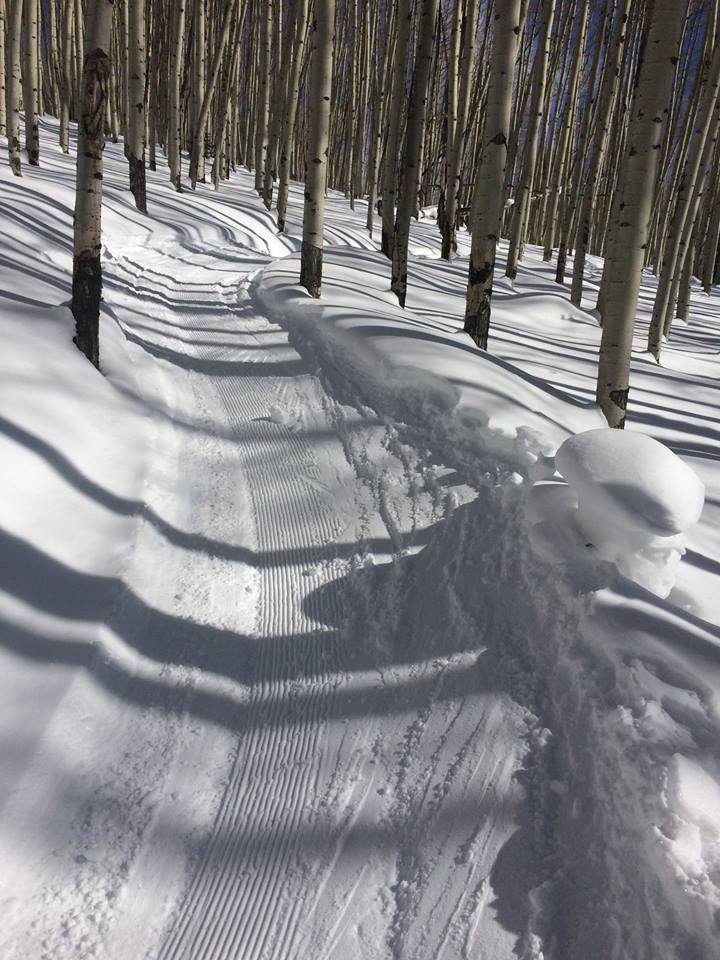 Photo: Singletrack fat bike trail ready to be enjoyed by all riding types.
If you are looking for something new or an added element of adventure this winter, give fat biking a try. Not only is it tons of fun, it is also an amazing workout!