New Years Eve with the whole family? Or maybe out on the town for a romantic date? Steamboat Springs has you covered with style, flare and a delightful champagne toast.
Family Friendly:
Bear River Bar & Grill and Slopeside Grill are both located at the base of the ski area and a convenient dining option to watch the torchlight parade and firework show, which will take place around 5:30 to 6:00 p.m. Make a reservation before, say 4:30ish and then wrap up around 5:30 where you can easily step outside and have front row standing for the firework show. Or, make a reservation directly after the fireworks around 6:00 p.m. All of your bases are covered for an easy one-stop-shop New Years meal and entertainment. Both restaurants are family friendly with a large menu of american style cuisine.
Date Night:
Treat your date to elegance and ambiance as you kick off a romantic 2018. There are a number of restaurants to chose from both downtown and on the mountain. Two of my favorites are Aurum Food and Wine (downtown on Yampa Street) or Truffle Pig (ski area adjacent to the gondola). As noted, the torchlight parade and firework show will be at the base of the ski area at 5:30 p.m. If convenience and accessibility have you staying on the mountain to dine, Truffle Pig is a great option to be within walking distance of the fire works. Want more of a late night scene, then head downtown. Aurum
Food and Wine has you covered with a comfortable, yet swanky ambiance with picturesque views of the Yampa River and Howelsen Hill ski area.
Large Groups:
The Ore House is a sure bet to please your group and pallet. The building itself is a historic barn restored into a restaurant that is well known for its steak and seafood. Plenty of room to host your group in the cozy dining area downstairs, and a private room upstairs. Besides the quaint ambiance and amazing Rocky Mountain Trout, my personal favorite is the salad bar and cinamon buns that accompany every meal. Another large group option is a restaurant called Scratch - located downtown on Yampa Street. Scratch is lively, casual and has a large contemporary space that will host your group. Known for their wood fired oven and creative menu options, your group will be satisfied with the large menu and contemporary ambiance.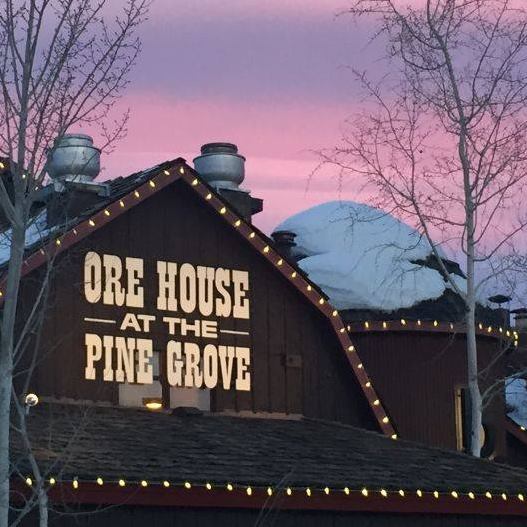 Casual:
Casual and fun for everyone! Mahogany Ridge Brewery downtown on 5th and Lincoln Avenue has a lively atmosphere serving up dinner after 5:00 p.m. in the dining room. The bar area is great for groups of friends who are ready to get their New Years Eve party started. Try their local brews or that signature cocktail paired well with tapas and the best salmon bowl in the mountains. Another option is Salt & Lime, located downtown on 7th and Linoln Avenue. They offer up mexican flare with a creative twist. The ambiance is fun; the street tacos can't be beat; and the margaritas are spicy and sweet!
Please visit www.steamboat.net for more dining options and be sure to make a reservation. Cheers to your dining delight and a wonderful start to 2018!