I had the privledge of meeting Ray when he was my guide on a 2-hour summer horseback tour I took a few years ago. It was a special day and one that I will remember, not only because of how beautiful the horseback tour was, but simply because Ray had amazing stories of Steamboat's history. He is cousin to the late Olympian, Buddy Werner. If you know a thing or two about Steamboat, you will know that Buddy Werner is a legend in our town. He was an olympian in the 1956, 1960 and 1964 Olympics who tragically died in an avalanche at the young age of 28 while skiing in Switzerland. Beyond the legacy to Buddy, Ray is a notable local of his own.
Ray's family has lived in Routt County for 6 generations. He is a local Olympian, outfitter and rancher. Ray's family owns and operates Del's Triangle 3 Ranch. Del's is one of Colorado's oldest licensed outfitters. They have been outfitting and riding horses through the Mt. Zirkel Wilderness area, located in the Routt National Forest, since 1962.

You may want to start dreaming and thinking about booking your summer vacation to Steamboat. If you think it is a great ski mountain town in the winter, just wait until you experience summer. The mountains are ripe green with lots of vegetation, the sky is a deep clear blue, the days are warm, nights are crisp and the backdrop comes alive with bliss. I dream of summers here in Steamboat. The Zirkel Wilderness area where Ray operates his ranch is one of the most special places in the world. The mountains are more jagged, the lakes are at high altitude with an aqua color, and the landscaping is as breathtaking as the Alps. You can experience a horseback trip both summer and winter. Consider booking a trip now whiel youa re here with Ray at Del's Triangle 3 Ranch. He will tell you about all his secret ski spots and the days where he and his olympian cousins snuck off on their horses to ski sand mountain as kids. I was lucky to see a large heard of elk, which is not uncommon on his tours.
If you are in Steamboat Springs next Tuesday, February 6th you can catch Ray speak at a History Happy Hour here in town at local Butcherknife Brewery from 5:30 to 6:30 p.m. to hear Ray share his "Stories from the Trail." It is a free event and a complimentary beer will be provided to each attendee.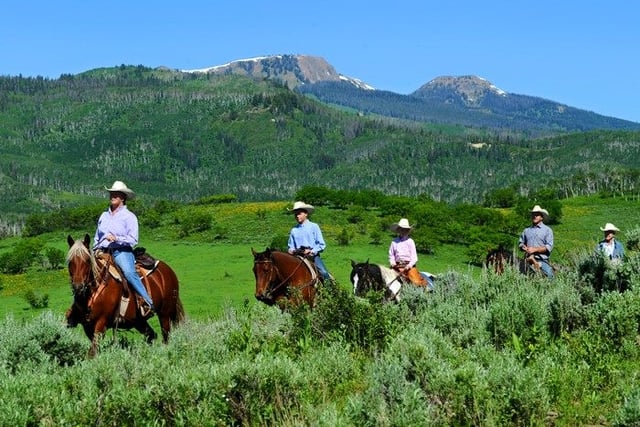 Photo: Del's Triangle 3 Ranch Horseback tour with Sand Mountain in the background