There must be something special about riding the gondola to the top of a ski area and enjoy breathtaking views as you watch the sky illiminate with pink, yellow and orange tones. Sunset Happy Hour is a 'must do' while you are in Steamboat Springs. Taking place every Thursday evening until April 12th.
Gondola loading for Sunset Happy Hour starts at 5 p.m. with about a 10 minute gondola ride heading up to Thunderhead at 9,000 feet. While you are at Sunset Happy Hour, enjoy drink specials, appetizers and live music. Head out to the Thunderhead deck to enjoy the magnificent sunset over the Yampa Valley with scaping views of the Sleeping Giant, Hahns Peak, Rabbit Ears, Flat Tops and Emerald Mountain. Afterwards, you can enjoy the gondola ride back down overlooking the downtown lights.
$15 includes Gondola Ride and $5 towards food or beverage. Purchase tickets in the Gondola entrance as you board and note that space can be limited so plan to come early. This will be an evening to remember and another memory to add to your Steamboat vacation!
Music schedule at Sunset Happy Hour:
Thursday, March 15, Crispy Watkin and the Crack Willows
Thursday, March 22, Jaw Roemer
Thursday, March 29, Chamberlin - Birch
Thursday, April 5, Me and Ed's Music Machine
Thursday, April 12, Buffalo Commons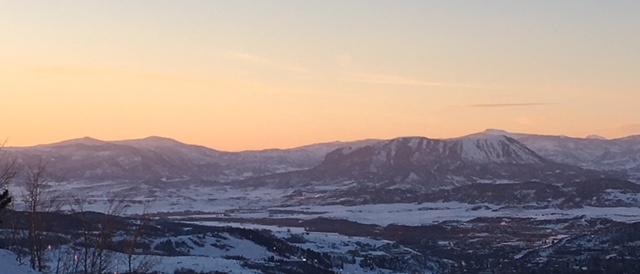 Photo: Sunset views from the top of the gondola.