Now is the time to visit Steamboat Springs. Trees, flowers and plants have budded and are new with fresh spring scents. The green color blooming throughout town is so vibrant against the snowy mountain back drop. On a bluebird day, you may have to pinch yourself to see if there is something as beautiful as the site of Steamboat in the spring/early summer. Read below for some of my favorite activities to do this time of year to catch the beautiful, long days of May.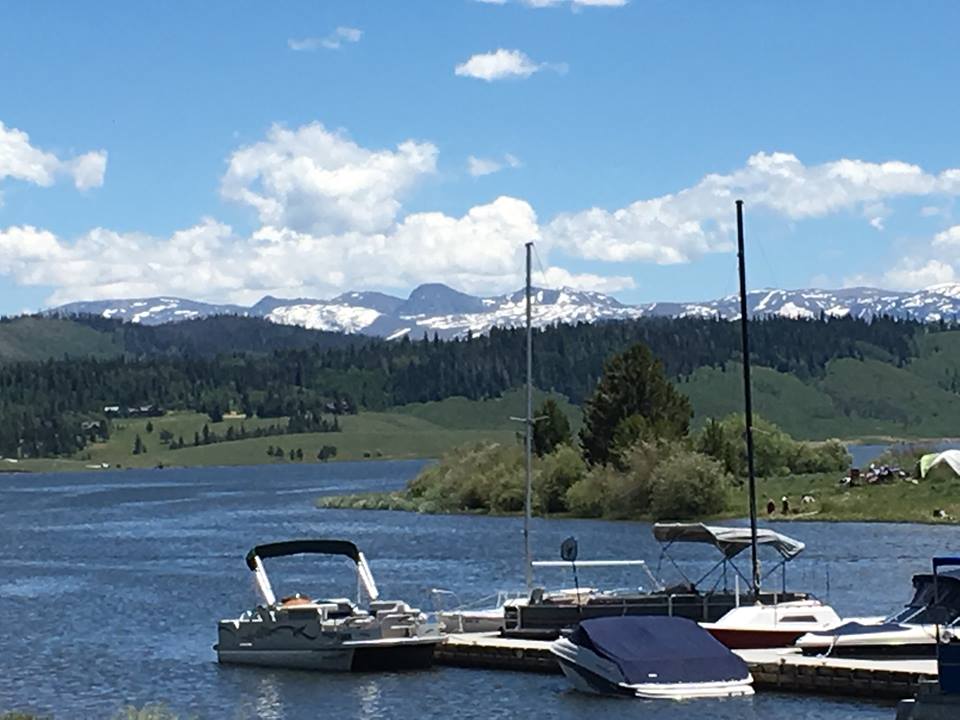 Steamboat Lake offers fishing, camping, hiking and boating. 35 minutes north of Steamboat.
Fish
Head out to Stagecoach Reservoir or Steamboat Lake to try your luck at catching some rainbow and brown trout beauties. Be sure to stop by a local fishing shop to pick up your license and find out the best flies and lures.
Hike
There are numerous dry trails open for hiking. Spring Creek and Fish Creek Falls are located off of 3rd street heading north. The aspens are at a prime fresh bloom and Fish Creek Falls is a 280 foot waterfall that is at full force and ready for your next family photo.
Bike
Have your taste of hero dirt as we call it here in the 'Boat. Dry, but not dusty with the best grip for your tires to thrill the fun on the zippity down. The trails are opening up with plenty of fun riding on Emerald Mountain, Mad Creek, Red Dirt and Hot Springs Trails. For a more casual bike approach, try renting a cruiser and riding along the Yampa River Core Trail, which is a 7 mile, paved trail that runs throughout town along the Yampa River. Plenty to see and do along the way, including a visit to the FREE Botanic Gardens.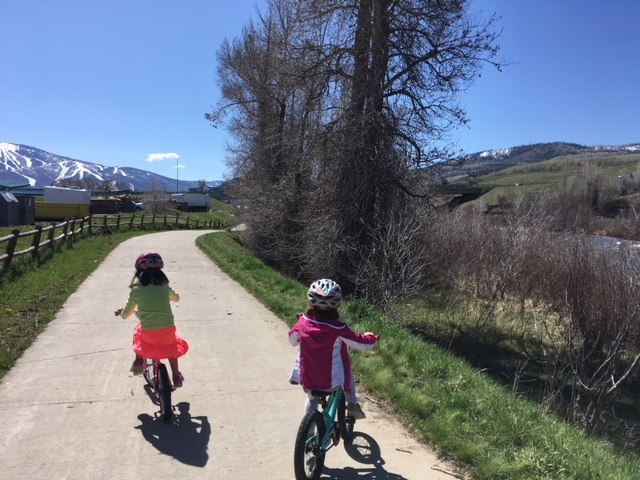 Kids bike along the Yampa River Core Trail along the Yampa River with Steamboat Ski Area in the background.
Park Play
7 amazing public parks along the Yampa River Core Trail and throughout town and the mountain of Steamboat Springs. Kids will love the playground while parents can sip on a cup of coffee and savor the relaxing moments and the beauty all around.
Shop and Eat Downtown
The quintessential main street America awaits as you walk throughout downtown Steamboat Springs. Several boutiques and local shops await as you stroll throughout the sidewalks. Dine on the river or patio to enjoy the sunshine and crisp mountain air. Pop in a museum or art gallery to feel the culture. You can spend half a day exploring downtown Steamboat Springs.