Steamboat Springs has expanded one of the best mountain air programs in the country, with new non-stop flights from all over the US. From December to March, you can fly non-stop from 15 major airports on airlines such as Alaska, American, Delta, JetBlue, and United. There are also convenient connections from more than 350 other airports nationwide and worldwide.
New this season, Steamboat's industry-leading air program continues to expand with the addition of three non-stop markets on JetBlue. Skiers and riders in Boston, Ft. Lauderdale and Long Beach, California, will be able to access Steamboat during the 2018-19 winter via nonstop flights.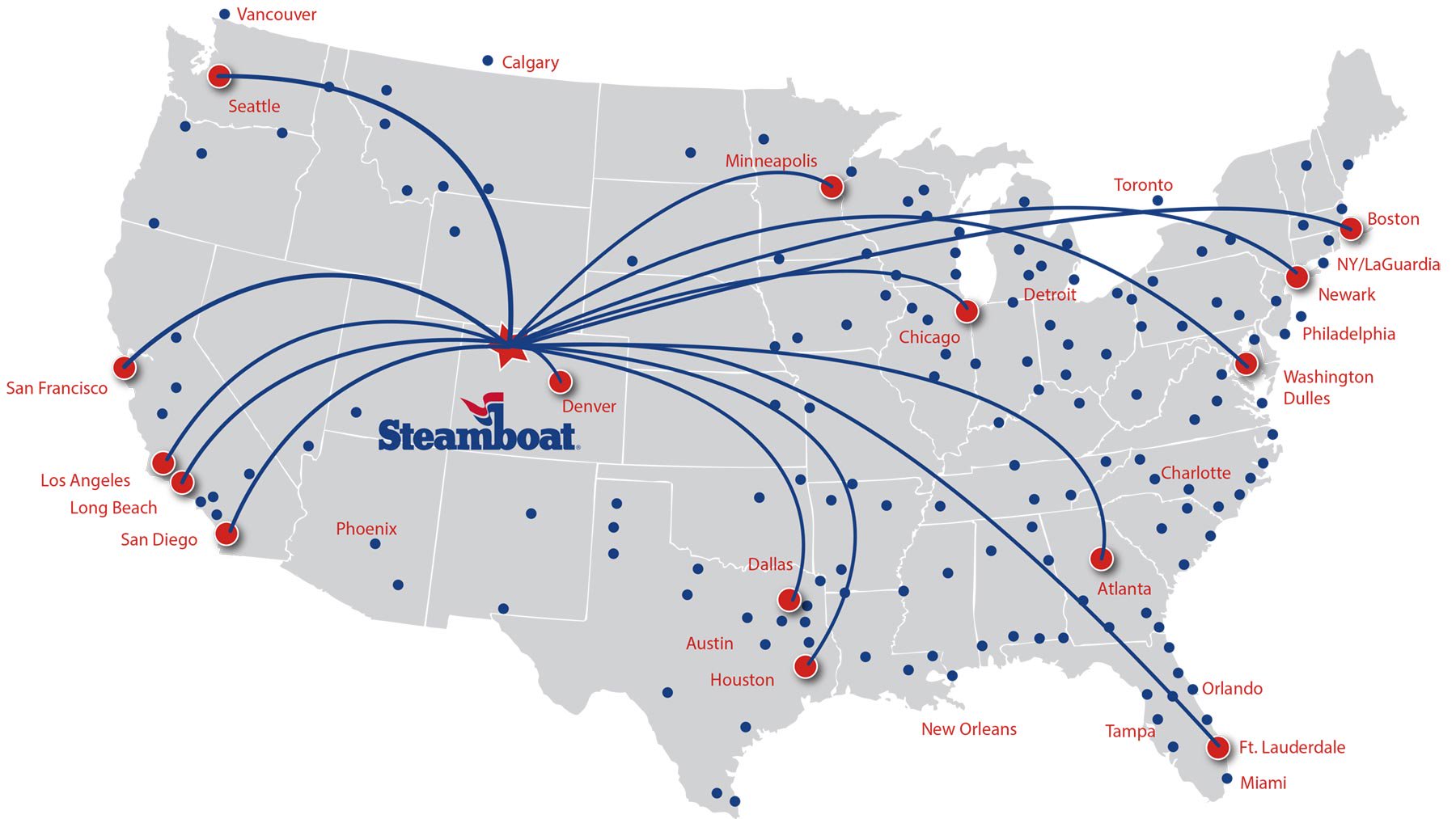 The Yampa Valley Regional Airport (Steamboat/Hayden HDN), is located just 22 miles from Steamboat Springs west on highway 40. Many affordable taxi or car companies can easily get you from the airport to Steamboat Springs. Winter offers more nonstop flight options, but if traveling to Steamboat in the spring, summer or fall, there are also direct flights from the Denver International Airport.
Consider looking into these nonstop flights for your next ski vacation to Steamboat to make for a convenient, less-hassle travel experience.
If you're thinking of flying in direct for a ski getaway, check out our friends over at SteamboatRBO. They can help you find the perfect place to stay, and even arrange for your lift tickets and discounts on ski rentals.
Below is the winter 2018/2019 flight schedule.
Atlanta (ATL)*

December 20 - March 31
Daily on Delta Airlines

Boston (BOS)

December 15 - March 30
Wednesdays and Saturdays on JetBlue

Chicago (ORD)

December 19 - April 1
Daily on American Eagle

February 16 - March 30
Saturdays on American Eagle

December 19 - March 30
Daily** on United Express

Dallas/Ft. Worth (DFW)

December 19 - April 1
2 flights daily on American Airlines until Jan 7, 1 daily Jan 8 through Apr 1

Denver (DEN)

November 28 - April 14
Daily midday on United Express

December 19 - March 30
Daily in the afternoon on United Express

November 21 - January 6 and February 14 - April 14
Daily overnight on United Express

Fort Lauderdale (FLL)

December 15 - March 30
Saturdays on JetBlue

Houston (IAH)

December 19 - March 30
Daily on United Airlines

Long Beach (LGB)

December 15 - March 30
Wednesdays and Saturdays on JetBlue

Los Angeles (LAX)

December 19 - March 30
Daily on United Express

Minneapolis/St. Paul (MSP)***

December 20 - March 31
Daily on Delta Airlines

Newark (EWR)****

December 22 - March 30
Saturdays and Sundays on United Airlines

San Diego (SAN)

December 15 - March 24
Wednesdays, Saturdays, and Sundays on Alaska Airlines

San Francisco (SFO)

December 22 - March 30
Saturdays on United Express

Seattle (SEA)*****

December 15 - March 24
Tue/Wed/Sat/Sun on Alaska Airlines

Washington-Dulles (IAD)

December 22 - March 30
Saturdays on United Airlines
* Atlanta flight does not operate on Tues, March 26.
** United Airlines Chicago flights are Saturdays and Sundays only starting Jan 7 - Feb 13.
*** No Minneapolis/St. Paul flights on Tuesdays and Wednesdays Jan 1 - Feb 13 nor Feb 19, Feb 26, March 26, and March 27.
**** United Newark flight is Saturdays only Jan 13 - Feb 17
***** Seattle flight does not operate Jan 8 - March 19